Elizabeth Ostberg, Co-Founder & Executive Director
"I know every student is brilliant so I expect everyone to be their best selves and work hard for their dreams."
Ms. Elizabeth developed Educators for Quality Alternatives and The NET in response to the high drop out rate in her beloved adopted city. After teaching students who had dropped out of high school in Philadelphia, Ms. Ostberg moved to New Orleans to help re-build The New Orleans Charter Science & Mathematics High School after Katrina. She then served as Director of Talent Management/HR for FirstLine Schools as it expanded from one school to a CMO of 5 schools. She holds a MEd from Harvard University with a focus on education in crisis zones.
Ms. Ostberg says that if she can travel she would visit all her nieces and nephews. She also enjoys baking cakes but isn't good at decorating them yet. Hopefully, she will soon.
Biography by NET student JaNaria
Kristina Baiamonte, Principal, The NET: Gentilly
Ms. Kristina has worked for almost twenty years in various aspects of education in Louisiana. She has taught Pre-K through high school, written curriculum, and worked with new teachers through TNTP. She brings a wealth of experience from her time as a Director of Assessment and Accountability with the Louisiana Department of Education, where she took on a variety of roles including supporting schools with over-age populations and working with school districts on data analysis and instructional support.
Neil Poynter, Principal, The NET: Central City
"I want every student to attempt things at school that are outside of their comfort zone and help them to imagine new possibilities for their future."
Mr. Neil, who is originally from Baton Rouge, lives in New Orleans with his two amazing daughters and his anxious dog, Buckley. As a high school student, Neil was very social and wasn't too interested in his academics. However, Mr. Neil realized he wanted to be an educator
the first time I taught kids as a volunteer, which he considers the hardest and most rewarding thing he'd ever done. He began his career as a
New York City Teaching Fellow in 2008. He earned his Masters in Education with a specialty in Learning Disabilities from Hunter College and taught at The James Baldwin School in Manhattan, whose mission and advisory structures are similar to The NET. Mr. Neil returned to Louisiana in the summer of 2011. Mr. Neil was an Advisor and the Academic Dean at The NET before becoming principal. Neil is proud to be a part of this mission, and honored to work alongside this staff and is responsible for coining the iconic phrase, "Swing the NET!". In his downtime, you can find Mr. Neil practicing French, playing guitar, and reading.
Michele Atkins, Special Education Teacher
"Each of my students can reach their true potential."
Michele Atkins is a veteran teacher of 23 years, wife, and mother of five children, aged 15 to 35. Ms. Atkins graduated from Loyola University, with a degree in Communications. She enjoys working with NET students who really want to learn. Ms. Atkins enjoys sports watching live sports. Her favorite football team is, of course, the Saints.
Biography by NET student JaNaria
Mary Bamburg, Advisor
"I expect my students to try. We learn a lot more from an unsuccessful attempt than from refusing to even try something."
Born in Shreveport and living in Louisiana for over a decade, Ms. Mary works as an advisor at The NET: Gentilly. She has a Bachelor of Arts in English from LSU and a Master of Fine Arts in Creative Writing from UNO. This is her seventh year teaching. Ms. Bamburg has also taught ACT/SAT Prep for the Princeton Review as well as English. Mary loves Christmas and this year will be spending it with her new baby! A fun fact about Ms. Mary is that she can speak basic Japanese but was fluent in college.
Biography by NET student JaNaria
Katherine Bell, Advisor
"There is something really satisfying about being the bridge between the student and the material and watching them grasp a new skill or idea."
Originally from Florida, Ms. Kat holds a BA in English from the University of North Florida, an MA in Linguistic Anthropology from Tulane University, and an M.Ed in Curriculum and Instruction from Montana State University. Working in education off and on for over fifteen years, she has taught English, English as a Second/Foreign Language, Humanities, and now Geography to both high school students and adults in Florida, Argentina, and Montana. In her classrooms, giving up without trying is not acceptable. Honesty is also very important to Ms. Kat because she believes without honesty, she can't truly teach, help, know or understand a person. She loves that each day at the NET teaches her something new about this amazing city, about herself, and especially, about her students. Ms. Kat lives in New Orleans with her fluffy dog, Poka.
Valerie Bodet, Co-Founder & Academic Dean
"Being with young people energizes me. I enjoy watching others learn and grow."
Ms. Valerie is a New Orleans native and co-founder of The NET, with over 20 years of experience in education. She has a Masters in Forestry and loves to teach outside. She first taught science as a Peace Corps Volunteer in Gabon, Central Africa. She has worked with New Orleans' youth in public schools as a classroom science teacher and in the outdoors as Director of the Louisiana Outdoors Outreach Program. Ms. Valerie says her expectations for all young students is that they learn how smart they are and learn to take positive risks while gaining confidence through those experiences. You can find her teaching outside all year or enjoying Jazz Fest in the springtime!
Biography by NET student Alexius
Trisha Botello, Mental Health Counselor
"Some problems feel too big to handle, and we are here to support you through those challenges!"
Ms. Trish comes to us straight from the bayou, as she was raised in Cajun country. She has been working in counseling and creative arts therapy for over fifteen years and is a certified LPC, MT-BC. She joined the NET through a partnership with Communities In Schools. Ms. Trish has worked many jobs before the NET, including being a music therapist at a hospital for teens, and a counselor for people struggling with addiction. She works hard to teach the students of the NET to be real and honest with themselves. If a student is going through problems that feel too big to handle, Ms. Trish is dedicated to supporting them through those challenges. She loves to bake and make healthy food and loves the sunshine. She also plays the piano and sings, and prides herself on her Norah Jones impersonation. Ms. Trish especially loves to dabble in different crafts with her daughter, whom she considers to be her world.
Biography by NET alum Renni
Adam Bourne, CTE Program Director
Mr. Adam has been working in different facets of construction for most of his life, most recently renovating and selling residential properties. He has worked with students in different capacities since moving to New Orleans five years ago. He's excited about helping solve the problems facing students at The NET and getting them on a path that leads to success!
Bianca Briggs, Advisor
"My teachers helped me accept who I am, so if I can help a young person do the same, great!"
Ms. Bianca joined the NET after teaching in several New York City public schools. She holds an MSEd from Long Island University and was an NYC Teaching Fellow and NYC Writing Project Fellow. Growing up in Miami, Ms. Bianca was exposed to many different lifestyles and cultures, which had a profound impact on how she views the world. She encourages all her students to get out their comfort zones as often as possible and become global citizens. In addition to teaching, Ms. Bianca is a floral designer and brings her love of nature, quiet, and beauty to the classroom. She has become very fond of New Orleans culture and loves the social rides and second lines.
Biography by NET student JaNaria
Tiffany Brown, Learning Lab Teacher
Ms. Tiffany runs the learning lab at The NET: Gentilly.
Shane Colman, Operations Director
"I believe that education is a fundamental human right."
A graduate of Northeastern University, Mr. Shane started his education career teaching 8th grade English in Tuscaloosa, AL before relocating to New Orleans and joining The NET in 2012. Mr. Shane has taken on a variety of roles at The NET, including designing and leading the online credit-recovery lab, teaching film production classes, and managing student enrollment. He currently serves as Operations Directors for both campuses. Mr. Shane enjoys working with a team of dedicated educators who are intensely passionate about improving the lives of our students.
Biography by NET student JaNaria
Raven Davis, Attendance Monitor & Office Manager
"I love working with kids. Today's students are our future."
Raven Davis lives in New Orleans with her wonderful husband and beautiful three-year-old daughter. She loves cooking, eating, and entertaining her friends and family. She's worked in various roles within the field of education: a paraeducator, second-grade teacher, interventionist, and a school receptionist. A busy mother, she says The NET gives her a burst of energy. Before she began her career, Ms. Raven attended American Intercontinental University in Buckhead, Georgia and Delgado Community College in New Orleans, Louisiana. Mrs. Raven loves being the first and last face that the students get to see!
Kara Dorsey, Academic Dean
"I expect that students will take onus of their education, rise above the distractions of life, and work toward their goals."
Ms. Kara joined The NET at the start of the 2012-2013 school year as an advisor. Prior to joining The NET, she taught middle school English in St. Helena Parish. A graduate of Southeastern Louisiana University and of Concordia University-Portland with an MA in Ed. Leadership, her primary objective as an educator is to empower underserved youth to reach their maximum potential. As a Louisiana native and a mother of four beautiful daughters, she is passionate about teaching and learning to continually seek innovative, research-based methods to meet all her students' needs. Ms.Kara became an educator because she herself was blessed to have an excellent public education, and it wasn't until high school that she realized everyone didn't have that same opportunity. Since then, it has been her goal to play a role in allowing students to have a positive and meaningful educational experience.
Biography by NET student Troyneisha
Devin Floyd, Math Teacher
Mr. Devin teaches Algebra I and Geometry at the Gentilly campus.
Vee Francis, History Teacher
"I wanted to make sure that young African-American kids were given a chance to succeed."
Ms. Vee is from New Orleans. She is very close with her family. She has been married for twenty years. She has two children, a daughter who attends Millsaps College and a son who is a high school senior. he enjoys reading and relaxing during her free time. She recalls high school as a wonderful time and believes in the power of education. Ms. Vee has a BA in Education from LSU and has taught Special Education, English, Math, to almost every age level in New Orleans and Georgia. As well as teaching at The NET, she leads the Senior Committee. She expects great things from her students, like for them to come to school prepared to learn and be open to new understandings. Ms. Vee believes in all of her students, gives them a lot of love and time to shine. She describes her perfect day as one where she can sleep in late, there are no household chores to do, food is already prepared and her family is near. If she was to travel anywhere, it would be Barbados.
Biography
by NET student Azzan
Nicole Freeman, Assistant Dean of Students
"Even when the odds seem to be against you, you can still succeed."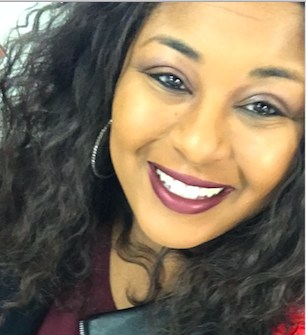 Ms. Nicole comes to us from Waggaman, Louisiana. Before beginning her work in education, Nicole worked with special needs individuals at Magnolia Community Services. With an extensive background in psychology, Nicole is passionate about giving back the love, care, and support that her previous educators have given her. She works hard to teach the students of the NET to take responsibility for their actions and to show compassion towards others. In her free time, Ms. Nicole enjoys writing poetry, reading, and planning for the future. A lover of comedy, she believes that laughter is great for the soul. Nicole coins her family as her biggest supporters. She has one older brother, and of course, Alexis the guinea pig.
Biography by NET alum Renni
Joelle Gentner, Advisor
"Be honest. Be kind. Work as hard as you can and try. That is all. But, that is really everything."
Ms. Joelle, aka Ms. G, hails from The Chi and now calls Central City her "home sweet home." She has two amazing children, Lily and Sam, who she loves more than the stars in the sky. Because they all live far apart, she misses them very much. Her New Orleans family is her crazy dog, Pi. Ms. G had a miserable high school experience. She wasn't a good test taker and often felt misunderstood. She decided to become a teacher when she saw that her own son was struggling in school. She knew there has to be a better way to work with students who weren't traditional learners. She has now been working in education for over fifteen years. As a teacher, she hopes to guide students to see their tremendous self-worth.
Temple Gowan, Advisor
"I want our students to be curious about the world so that they'll want to learn more about themselves and the people around them."
Ms. Temple grew up on a small farm in Kosciusko, Mississippi, the birthplace of Oprah. She has been working as an educator for about eight years. She didn´t care much about academics in while high school. Instead, she put her energy into theater, choir, and band. But when she got to college, it all changed. She fell in love with learning and found all of her professors' lectures fascinating. It opened up a whole new world for her. She became an educator because she wanted to give other people the opportunity to have that experience as well. She feels as if it is the most challenging thing she has ever done and loves it. Before working at The NET, she taught English and journalism at a high school in Mississippi, where she also directed the annual school musical. She also taught writing and literature to college students at her alma mater, the University of Mississippi. During her free time, she likes to enjoy walking around the city when the weather is nice. She also likes reading, listening to podcasts, watching TV, trying out new restaurants, cooking at home, hanging out with her friends, and if she gets a chance, she´ll travel to new places. She lives in New Orleans with her cat, Mina, and her dog, Jezebel.
Biography by NET student Shante
Bailey Griswold, Math Teacher
"I really like working with young people and wanted to make sure all students have the opportunity to get a good education."
Ms. Bailey is from Platteville, Wisconsin. She holds an undergraduate degree from the University of Wisconsin-Madison and previously served as a City Year Corps Member in Jacksonville, FL. She loves the way The NET views and values the young people of New Orleans and enjoys the small and supportive environment that fosters positive relationships, personal growth, and accountability. Ms. Bailey enjoys eating great food, reading, Netflix, and being with friends.
Biography by NET student Gerrick
Diriki Guillory, Learning Lab Teacher & IT Manager
"Be the best you can be and when that doesn't work, become better than your expectations."
Mr. Diriki grew up in New Orleans and graduated from O. Perry Walker High School. He attended Sacramento State on a basketball scholarship and has lived in Israel, Chicago, Los Angeles, Oakland, New York, and Washington D.C. Before working at the NET he worked at the Zoo. He is proud to call New Orleans home and loves working at The NET. He enjoys collecting albino sea turtles and listening to soft rock.
biography by NET student Gerrick
Sharonda Hagans-Jones, Academic Dean
Sharonda Hagans-Jones is a staunch advocate for the marginalized student, which is why she began her journey in the education sector as an Orleans Parish teacher. She continued serving students of various academic levels in the state of Georgia as a PK-12 inclusion teacher, GED instructor for students recently released from incarceration, and as an Academic Coordinator and Adjunct Professor in Higher Education. Sharonda then relocated to the Washington DC metropolitan area where she held positions as a Special Educator and administrator within the charter school system. ​Mrs. Jones received her bachelor's degree from Southern University in New Orleans and her master's degree from Xavier University. Sharonda is currently the Academic Dean for the Net Charter High School's Gentilly campus. She enjoys everything about working at The NET.
Charmaine Harris, Internship Coordinator
Charmaine Harris was born and raised in Milwaukee, Wisconsin. She has committed her career to education equity, building inclusive spaces, and combating systemic oppression. She completed her Bachelor's Degree as a double major in Psychology and Criminal Justice from Lakeland University in 2010. After college, she committed to a year of service with Public Allies Milwaukee, which is a national 10-month AmeriCorps program that place young professionals into nonprofit organizations full-time and provide professional development and social justice training. Charmaine was placed at Urban Underground through Public Allies and later hired on as a full-time staff. Urban Underground focus on social justice community organizing with young people, where youth create campaigns and projects on issues that directly effect young people in Milwaukee. After working for Urban Underground for three years, Charmaine became a staff member of the very same organization that helped her to jump-start her career, Public Allies Milwaukee, as the Senior Program Manager where she continued to mentor young professionals in Milwaukee in nonprofit organizations. Charmaine earned her Master's of Science in School Counseling in May 2017 from Mount Mary University in Milwaukee and is now a licensed school counselor. Charmaine is the mother to beautiful yorkie/cairn dog, Totoe. Charmaine enjoys the small school environment of The NET. It feels like home away from her Milwaukee home.
Sandra S. Johnson, Special Education Coordinator
"I have a great love for learning, a need to help others, and a passion for children, so I wanted to pass on
my knowledge and love for learning on to others."
Sandra is from New Orleans
. She
is a mother of one son and a dog. She enjoys reading, spending time with family/friends and catching up on TV shows. She consults in several schools regarding Special Education and Section 504 procedures. She is never too tired to provide current information to others who provide services to children with disabilities. Sandra loved high school. She says high school was wonderful and it helped her mature and decide what it was she wanted to do in life.
Biography by NET student Jenea
Farhad Karim, History Teacher
"If young people grow up strong, wise and recognize their potential for greatness, they can lead the way
to build a new era that respects the dignity of each person."
Mr. Karim has been with The NET since its inception in 2011 as an Assistant Teacher, Advisor, and Teacher. He currently teaches American History and works with students in The NET's learning lab. He is currently pursuing a Masters in Special Education at Xavier University. Mr. Karim works to liberate young people's minds and ignite their passions so they can lead our city. He's from Los Angeles, California. His family is from both Pakistan and India. At the age of 16, he and his mom moved to the east coast, where he attended college and graduated school. In 2007, he moved to New Orleans and began teaching not long after. In his free time, he enjoys to write, play music and basketball. Mr. Karim wanted to become an educator was/is because he strongly believed that it is the youth who will create a new world. Before working at The NET, Mr. Karim was an Emergency Medical Technician (EMT-B). Mr. Karim expectations for his students are: (1) Respect yourself and your schoolmates (2) Listen when others are speaking (3) Try one's best each day. He would love to go to Egypt and see the Great Pyramids. One of his main hobbies is practicing Nichiren Buddhism, which is a life philosophy that teaches one how to become a strong, wise and compassionate human being.
Biography by NET student Shante
Christie Kieschnick, Next Steps Coordinator
"I used to play school all the time when I was little, and that just kind of stuck.¨
Ms. Christie is a native New Orleanian and has worked in education for over twenty years. She received a B.A. in Theatre Arts from St. Edward´s University and an M.C.D. in Speech-Language Pathology from LSU. In 2009, she started BeReal, an organization supporting youth aging out of foster care. Christie began only part-time at the NET to run a tiny "Next Steps" project for seniors. She has since grown the department into her full-time job that supports each NET senior and alum in living a successful life after high school. Christie loves to learn and teach and appreciates the dynamic energy of education. She works hard to encourage her students to treat school like it is a full-time job, and to always be working towards a goal. In her free time, Ms. Christie loves to watch movies, go see theatre performances, and read. She has been married to her husband, Kevin, for over twenty-five years, and has two daughters, one of whom is a NET alum!
biography by NET alum Renni
John Lacarbiere, Front Desk & Attendance Monitor
"I want my students to be themselves and love themselves enough to do what's best for them and their families."
Mr. John is a New Orleans native and a graduate of John McDonough Senior High School. Mr. John enjoys connecting with people and helping others. He's a full-time spoken word artist. In high school, he studied independently, made straight A's, and he hung with the "cool" kids. He was popular. In retrospect, Mr. John realized his attitude towards school and his behavior wasn't the best in a group setting because while he was making A's, his behavior was distracting others. He had a lot of fun. He graduated as his class valedictorian. Since 2010, he's been working in education. He wants to be the change he wanted to see in education. Before coming to The NET, Mr. John was working at Whole Foods and substitute teaching part-time, while also traveling around the country performing.
Biography
by NET student Azzan
Kim Legaux, Counselor
"Always keep trying. Stop making excuses."
Ms.Kim Legaux is a founding staff member of The NET: Central City and will be bringing her insight and experience to the Gentilly campus for the Fall 2018 semester. She worked for an adolescent drug rehab facility as a supervisor and at Bridge City as a therapeutic dorm leader. She has been working in education for over 20 years. She made the decision to become an educator while volunteering in her daughter's Pre-K class, after she was asked to sub for the teacher. Ms. Kim was also a Girl Scout troop leader and a cheerleading coach. She originally wanted to be a nurse but fell in love with working with kids and cites her daughter as her motivation to keep going. Ms. Kim runs the food pantry and the Period Poverty project for both campuses. Her door is always open to students, families, and staff who need a listening ear, a motherly lecture, a connection to a resource, or a funny story to cheer up their day.
Biography by NET student Troyneisha
Kelley Leggins, Special Education Teacher
"Keep a 'growth mindset,' be goal oriented, remain humble and hungry for knowledge."
Mr. K, a New Orleans native with a wife and two young sons, is a special education teacher at the Central City campus. He collaborates with teachers across content areas to provide additional academic support for our students. He's focused, artistic, the oldest of four boys, and has been cutting hair since he was eleven, so it's no surprise he also has a side job as a barber. By appointment only.
Lourdes Lugo, Spanish Teacher
"I wanted to challenge students academically and show that minority students could succeed despite
all of the challenges we face: poverty, violence, and discrimination."
Ms. Lourdes, aka El Lugo, is the foreign language teacher at The NET: Central City campus. She speaks four languages fluently. She has been teaching for over 30 years. Ms. Lourdes is originally from Puerto Rico. She dropped out of high school in 10th grade because she felt as if high school was difficult. At the age of 16, she decided to return back to an alternative high school in Chicago where she completed and earned her HS diploma/GED. She then furthered her education, earning her BA from

Northeastern Illinois University

and her MA from National Louis University. An activist to her core, Ms. Lourdes has traveled the world advocating human rights. She loves to read, cook, and walk her three dogs. She also plays volleyball and surfs.
Biography by NET student Dawn
Adam McElwee, School Nurse
"I expect my students to make a healthy living through healthy choices."
Mr. Adam is intrinsically motivated and embraces the responsibilities of his profession to facilitate normal development and positive client response to interventions; promote health and safety including a healthy environment; intervene in response to actual and potential health problems; provide case management services; and actively collaborate with others to build client and family capacity for adaptation, self- management, self advocacy, and learning. He is a proud nurse of students at both NET campuses.
Biography by NET student Troyneisha
William Miller III, Assistant Principal
"In the words of Mae Jemison, 'Never be limited by other people's limited imaginations.'"
Mr. Will came to The NET from Pennsylvania with a sincere passion for educating our youth. He is also reconnecting with his extended family, who are natives of New Orleans. Mr. Will has over ten years of experience in the fields of behavioral health management and education. Additionally, his experience as a school teacher, child advocate, and university professor is what has led him to his current role as The NET: Gentilly's Dean of Students. Mr. Will is currently pursuing a Ph.D. in Education Leadership, and School Principal Certification. As a NET team member, he enjoys the positive culture and nurturing leadership which he believes is the perfect environment for the growth of our students.
Brittany Moore, Counselor
"I want my students to learn to love themselves for who they are and to never give up."
Ms. Brittany holds an undergraduate degree in education from the University of West Florida, an MA in Education from New Orleans Baptist Theological Seminary, and a Masters of Social Work from Southern University at New Orleans. Ms. Brittany loves being part of a supportive community that impacts students' lives daily. Her small family lives in Florida, while Ms. Brittant enjoys exploring New Orleans in her free time.
Biography by NET student Gerrick
Seth Paddock, Advisor
"Two of my high school teachers that had a tremendous impact on me and inspired me to be a teacher."
Mr. Seth comes to The NET: Gentilly all the way from Ithaca, New York. He attended Cornell University and immediately began working in education after graduation. Before joining the NET staff, Seth was the director of J. Austin White Cultural Center in Eudora, Arkansas, which offers after-school and summer programs for children. He has been working in education now for over seven years. In his free time, Seth enjoys reading, woodworking, traveling, and camping. Mr. Seth's parents still reside in Ithaca, and he has an older brother who lives in Alabama.
Biography by NET alum Renni
Robin Perkins, Food Service Manager
"I wanted to work in the schools because I love people. I'm a people person."
Ms. Robin is the Food Service Manager at The NET: Central City, making sure all our students are provided with nutritious and delicious meals every day. She's been working with New Orleans Parish schools as a cook since 1992. Ms. Robin would like to visit Boston or Brooklyn on a getaway trip someday.
Biography by NET student Gerrick
Beverly Potashner, Special Education Teacher
"I expect my students to try their best."
Before moving to New Orleans in 2016, Beverly Potashner taught in New Jersey for 15 years. She studied at Rider University in New Jersey for both her undergraduate and graduate degrees. Ms. Beverly loves working with the kids and staff at The NET, where everyone is very supportive and she always expects students to try their best. In her free time, she enjoys hanging out with her family, going on long walks, reading, and being with her two dong's Jenna and Emerson. The person that made Ms.potashner want to become an educator was that she had an amazing guidance counselor that encouraged her to become an educator.
Biography by NET student JaNaria
Kelley Pursell, School Psychologist
Ms. Kelley is a native of northern California who originally came to New Orleans to study psychology at Tulane University. She received her MA in School Psychology from UC Berkeley and has worked as a school psychologist in California, North Carolina, and Louisiana.
Justin Ross-Hillard, Dean of Students
"I believe that people who know - do. I have always wanted to be one of the people who help others know so that they can decide what to do."
Originally born in Los Angeles, CA, Mr. Justin's family moved to his father's hometown of Detroit, MI. He grew up primarily in Flint, MI. He's married to his best friend Amaris. Together they have three children, Justin, Payton, and Harper. Mr. Justin is very active in his church. He's also a musician and vocalist. He loves music and sci-fi films. He really enjoys spending time with his family and traveling. He had a pretty amazing high school experience. He was pretty popular and well-known in his school. He was a member of the marching band and played the trumpet. He also sang in the school choir and earned Letters in Band and Quiz Bowl. In his senior year, he served as student body as Senior Class President. He started out exclusively as a sacred educator in 2005, then moved to secular education in 2011 and has continued since then. One of Mr. Justin's expectations for students at The NET is that
each student would come to know their worth and, upon discovering their value to themselves and the world, accept every opportunity given to raise that value so that see themselves and immeasurable in every aspect of their living and life.
Biography
by NET student Azzan
Tim Spahn Sattler, Internship Coordinator
"What happens here, stays here, but what's learned is taken with us.¨
Mr. Tim was born and raised in sunny Los Angeles, California. He has been working in education for eight years, with a degree in Public Policy from USC. Tim chose to work in education after deciding that the best way to create systemic change was through supporting the transformative power of youth. Before joining the NET staff, Tim worked at YouthBuild Charter High School of California, and then RiseUp Community School in Denver.
Mr. Tim connects students with the internships across the city, helping them ignite their passions, develop their dreams and learn valuable skills and experiences for the future.
He works hard to teach the students of the NET to build their own destiny and to be willing to push themselves to achieve their goals. In his downtime, Mr. Tim loves to write. He enjoys sci-fi movies and TV shows and has a love for basketball. Mr. Tim is married to a "beautiful queen," with whom he has two super-cute, but super-bad terriers.
Biography by NET alum Renni
Lee Thomson-Yood, Special Education Coordinator
"I want my students to trust me."
Ms. Lee holds a Master's Degree from Johns Hopkins University in Baltimore, Maryland. Born and raised on Chicago's South Side, Ms. Lee lived in DC before moving to New Orleans, LA. She lives with here with her husband of over 30 years and her two cats, Lefty and Catface. Being a student with a learning disability herself, Ms. Lee has dedicated her career to improving educational opportunities for young people with special needs. Ms. Lee believes that once trust is built in the classroom, students will take more intellectual risks and new learning experiences will be available to them every day. In her free time, Ms. Lee enjoys listening to live music, making mosaics, and spending time with her two daughters, and her new granddaughter, Grace Lee.
Biography by NET student Shante
Allen Thompson, Assistant Dean of Students
"A perfect day to me is a day I can leave knowing I affected a life in a positive manner."
Mr. Allen is a native New Orleanian who grew up in the 9th Ward. In high school, Mr. Allen was the star student-athlete. He has been working in education since 1998, along with doing some behavioral health work. Allen encourages his students daily to work hard and be committed to their education. In his free time, he likes to make money, empower others, and travel. Allen also loves to cook and watch football. He has three children, Jalen, Mikayla, and Aaren, and one spoiled dog named Nino.
Biography by NET alum Renni
Linda Tobias, Advisor
"I knew in my heart I was destined to serve young people and being an educator was the perfect fit."
Linda Tobias is a Secondary English Education graduate of Dillard University. She works as an Advisor at The NET: Gentilly. She lives in New Orleans, where you can get the best crawfish. Sometimes she takes her husband and two sons to eat Cajun seafood. But when she has some time to herself, she likes writing poetry and going shopping at the thrift stores to create new things. She graduated from a well known local high-school that is still popular and strong. Her high-school years made her realize she loved working with students and teaching others.
Biography by NET student Cierra
Eric Walter, Assistant Dean of Students
"

I like instilling the value of education in young people just like my mother did for me."
Mr. Eric is a New Orleans native and St. Augustine High School alumni. After high school, he attended Dillard University and earned a B.A. in English Language Arts and later attended the University of Phoenix where he earned his Masters in Educational Leadership. He's been

working in education for almost 15 years. This includes being an aftercare worker at a preschool, summer school instructor, tutor, classroom teacher, family engagement specialist for a national nonprofit organization, and assistant dean of students here.

Mr. Eric lives in the city with his wife and two daughters. He a video game enthusiast and loves working out at the gym during his free time. He expects students to grow academically and mentally to be functional adults in today's society.
Biography by NET student Dawn
Jennie Wimbish, Science Teacher
"I am an avid believer in a free and appropriate education so I switched careers and became a teacher."
Ms. Jennie is originally from Clinton, MS but moved to New Orleans in 2004 upon graduating with a BA in history from the University of MS. Ms. Jennie r
ealized I wanted to be an educator after she had her first child and started to research the quality of public schools in New Orleans.
She decided to get her teaching certification in Chemistry through teachNOLA in 2012 and currently teaches biology and chemistry at the Central City campus. At present, she is working on completing her Master's in Education, Curriculum and Instruction. Ms. Jennie expects her students
to perform to the best of their ability, to attend regularly, and to continue to grow in their education from wherever they are starting.
She has three daughters and enjoys SEC football, fishing, and listening to music.
Biography by NET student Dawn
Amber Zu-Johnson, Data & Enrollment Coordinator
"Both my parents were educators, it's in my blood."
Ms. Amber joined The NET after working in operations and administration at New Orleans College Prep, Cafe Reconcile and the New Orleans Jazz & Heritage Festival. She is proud to be a New Orleanian and a Howard University Bison! Ms. Amber welcomes families to The NET, helps them navigate the city-wide enrollment system, and get settled comfortably. During her free time she enjoys watching TV (1960's is her favorite), reading historical texts, visiting archives, going to concerts, and hanging out with her mom. She also keeps everyone at the school on track with her amazing organizational skills. Ms. Amber lives for the summer Olympics. Her favorite Olympic sports are gymnastics, swimming, and track and field. Ms. Amber will be joining the staff at the Gentilly campus for the Fall 2018 semester.
Biography by NET student Gerrick